I'm joining Twice Remembered Cottage for the 5th annual Cottage Charm Giveaway!
May's giveaway is French themed! There's right at a yard of the coveted French script fabric, a vintage French perfume ad from a French magazine, a cameo pin, a vintage, hand made (NOT by me) lace covered…. something. I'm not sure what it is, but the lace on the front is pretty. And finally, my last, beloved, my favorite, Paris scent candle from Capri Blue candles. I don't know when I'll place another order of the candles and this scent is not widely carried. It's a rare chance, indeed.
This lace thing opens up, but it's just a front and back. I though it was going to be a jewelry or lingerie keeper, but there are no pockets. Odd. But it's old and hand made.
The ad has a color ad for another French perfume on the back.
~~~
How do you enter?
Comment on any or every post during the month. Each post counts as an entry.
For another entry, let me know in a separate post if you become a follower or if you are already a follower.
For even another entry, grab my button and put it on your blog – and let me know in still another post
The winner will be drawn May 29.
Thanks to Twice Remembered for hosting the links for the giveaway! It's May 3 and there are already 20 participants. Check it out!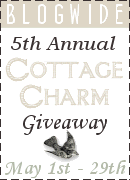 The following two tabs change content below.

Hi! I'm Wanda, the owner of Just Vintage and this is my blog where I talk about buying, selling, and decorating with all things vintage. I want to help you learn what to buy for resale and maybe give you inspiration in decorating, even if it's what NOT to do.