---
I recently found two gym locker baskets at a very good price. I feel like most people who want one or two of these already have one or two or three, so I passed my deal along. One has sold so far. The picture is of the one that's still left.
Gym locker basket
$10.00
---
Raffia wrapped wine bottle
$15.00
---
Warning! Horrible, horrible picture below!!
That large, new-ish wire plant stand
$22.00
---
Coors pottery planter
$9.00
---
The surveyor's tripod. The only thing left out of this picture is one measuring stick. I decided to keep one.
Surveyor's tripod
$89.10 (It was priced at $99.00 but the buyer took the 10% discount.)
---
I really thought I was going to have to put this MCM tent planter online to find its new home. As cool as it is, it stayed over a year in the booth. I moved it around to different spots to try to get it noticed. I mean, it's so cute! Why didn't it get snatched up early? Mid-century tends to be a hard sell locally. I incorporate some MCM things into my personal decor but it's not something I have a ton of. While I adore the style, it's not me. It was my mother's style back when it was new. I think that's why I don't use an awful lot of it. I didn't like it back then. I preferred antiques even as a kid and MCM definitely wasn't antique back then.
MCM tent planter
$24.00
---
I had several of these rusty springs and take them to the booth one or two at a time:
Rusty spring
$2.00
---
Small rooster gravy dish
$6.00
---
Gray painted and distressed sofa table. Click here to see the before and after and the stoopid thing I did.
$116.10 Yeah. I know. You need to read the why and what happened.
Brass perpetual calendar not as old as I thought. It went up into the 1970s and I had to pay $3.00 for it!
Brass perpetual calendar
$6.00
---
When I bought this red plaid handle skillet, I thought it was the most wonderful thing I'd found in a long, long time. I continued to think so and couldn't figure out why it wasn't selling. Maybe it was priced too high but where else are you going to find something like this?! They're not exactly common. And it is pretty great. Perfect for the lodge look, or in a cabin. Or even a store or restaurant that decorates like that. It lasted a couple of years in the booth. It was displayed prominently, pushed to the back, brought out in a place of honor again, over and over until the right person found it.
That's the thing with vintage and antiques. They are never last year's fad – unless they really are last year's fad like we've seen with Jadeite, milk glass, Occupied Japan, etc. and even still they have collectors. But when you have something unique, it can wait on the right buyer.
It's well over 20″ long.
Red plaid handle skillet
$43.04 (after 10% discount)
---
The Fenton moonstone fan vase in the background was from my personal collection. While our new house is almost twice the size of our old one, it doesn't have as much storage. I'm trying to downsize my stuff. I'll admit I'm doing it half-heartedly, but at least I'm giving it a bit of a go.
The vase lasted less than a week. But as of this writing, the other moonstone vase is still awaiting its new home.
Fenton moonstone fan vase
$22.50 (after 10% discount)
---
Madonna and child bust
Large Madonna and child bust
$25.00
---
Two new magazines
$3.00 @, so $6.00 total
The following items that sold in the booth have no pictures:
1960s Miss America ticket stubs and booklet
$4.00
Small, black table. I bought it just to sit things on in the booth. It was sorta plant stand size. The top was about a foot square and it was 3′ tall at the most. Even was missing a "rung." I put $14.00 just in case anyone was interested. And someone was.
$14.00
Small, new-ish, porcelain "Laugh" sign. White with raised white lettering.
$4.00
When my husband rented his shop building the owner left some stuff in there for him. Mostly a few pieces of furniture, nothing special. One thing was a little, new-ish, black plant stand that you might find somewhere like Wal-Mart. I forgot to take a picture and it sold within a couple of hours after dropping it off in the booth.
$15.00
Tall newer, armoire type entertainment center from my dad's
$120.00
2 Columbia pattern plates, different sizes
$8.00
$9.00
Southern belle table runner and small doilies
$10.00
Small piece of chenille fabric
$4.00
Vintage tea towel
$4.00
Book on Scottish Heraldry
$3.00
1908 Alabama National Guard Roster pamphlet
$2.00
2 vintage coin bank bags
$9.00
Gray swing frame
$8.00
6 cans of paint
$119.17
Book
$2.00
---
Etsy was slow as molasses. I won't get on my soapbox in this post but I feel betrayed by Etsy with their announcement that our items will be stuck low in the search if we don't offer free shipping. That coupled with the recent, ridiculous, postal rate hike has me questioning if I want to continue online sales at all or most especially, through Etsy. I suppose I'll keep renewing until nothing is selling anymore since I have a bunch of free listings. One thing about this business, it keeps us on our toes and rethinking how we conduct that business!
Five things sold on Etsy for a total of $56.00. They are:
Vintage Simplicity 2161 pattern
$22.00
---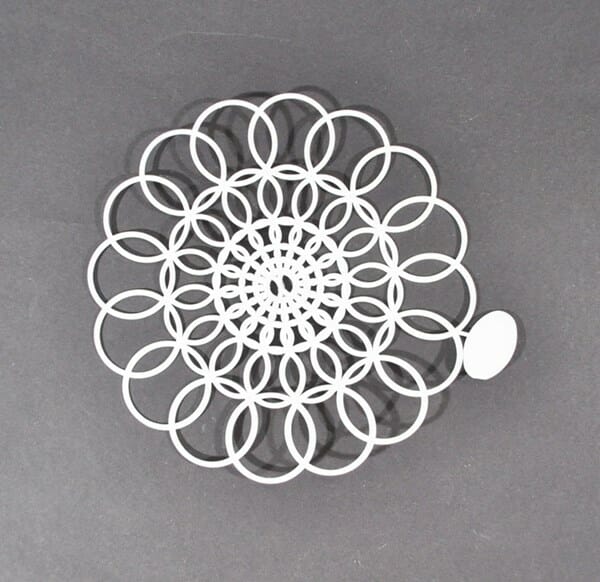 Two Tupperware doilies at $3.00 each
$6.00
---
I gave this tile to a friend and when it no longer fit her decor, she put it in her booth where I secretly bought it back. Hehe. But silly me. By the time I bought it twice, I didn't make any money off it reselling it.
Antique tile
$12.00
---
Lovely blue rhinestone clip-on earrings
$15.00
---
There was also a sale here in the blog shop. I'm always so very, very grateful to get those sales! It gives me hope that maybe I haven't totally wasted my time.
Vintage bisque, bride, groom and preacher. The groom had an accident long ago and was lovingly repaired but still had a hole in his head.
$10.00
---
So there it is. Booth total sales prior to fees and rent, $732.87. Etsy total prior to fees $56.00. Blog shop $10.00.
You can click on the image below to save to your Pinterest "business" file!
The following two tabs change content below.
Hi! I'm Wanda, the owner of Just Vintage and this is my blog. Just Vintage sells decor and collectibles. This blog is all about the business, our home, our DIY projects and our lives.