I sound like a broken record, but gosh darn it! I just wasn't into the resell game last month. I only visited the booth twice! Or maybe it was once? I did renew some Etsy listings and added a couple of new things. But my preference for life was, as it has been for several months, to hole up in the sewing room. Why in the world can't I discipline myself to divide my time?! But all that's neither here no there. The point of these posts is to share the things that did sell. Because that's what we all want to know, isn't it? What's selling for everybody else? So, here it is:
The Vintage Sales Report For January
Sales in the booth:
Dept. 56 Locomotive Shed $20.00
---
Cotton Stems – Larger bundle $12.00, smaller bundle $10.00
---
Surveyor's Stick $55.00
---
These nightstands were given to us. Ricky put a quick coat of paint on them and we took them to the booth.
One White Nightstand $27.00 (The other sold a couple of months earlier.)
---
This pottery flower frog is a planter, too. And it's just the green thing, not the candlestick it's sitting on.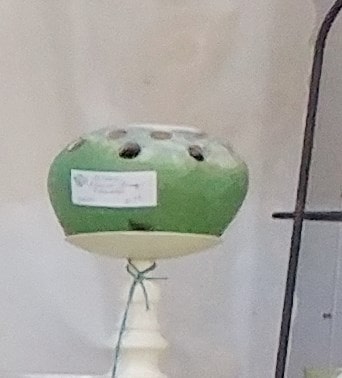 Green Flower Frog Planter $8.00
---
Yellow and White Drinking Glass $6.00
---
Okay. So. I sold this old fireplace surround for $25.00. Before you berate me for selling it too cheap, mine was one of several in the mall. The others were at least $50.00. All of them, including mine, had been there a looooonnnnngggg time. The others are still there. I had actually decided to bring mine home and find a use for it but never got around to it.

Hint: Want something to sell? Decide to keep it but don't take it home immediately.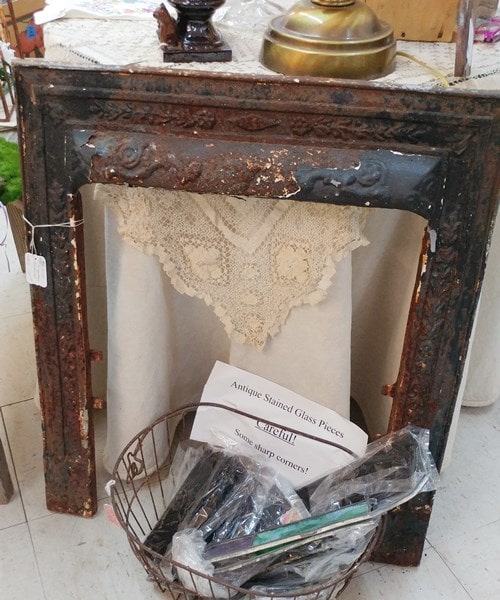 Fireplace Surround $25.00
---
I bought two of these copper-colored, iron plaques and kept one. I loved it! Haven't put it up yet, but there're a lot of things waiting to find their place here. I was so surprised that this one took quite a long time to sell. Guess I don't have to worry about selling – or not selling – my taste.
Goddess Plaque $25.00
---
I bought this bird cage looking thing at the Country Living Fair in Atlanta several years ago. It is not old and there is no bottom. It's like a bird cage cloche. I decided to let it go. Probably lost money on it. I have no idea.
Also, sold in this picture is the silverplate tray it's sitting on.
Silverplate Tray $12.00
Newer Pretend Bird Cage $12.00
---
I watched so many people stop and look at this old cart. They'd look at the tag ($59.00) and walk on. My husband had to make the wood insert. I wondered if we had painted the wood in different color layers and distressed it, if it would have sold quicker? However…. I'm not the painter in the family and decided not to mention it. After nearly a year, it found its new home.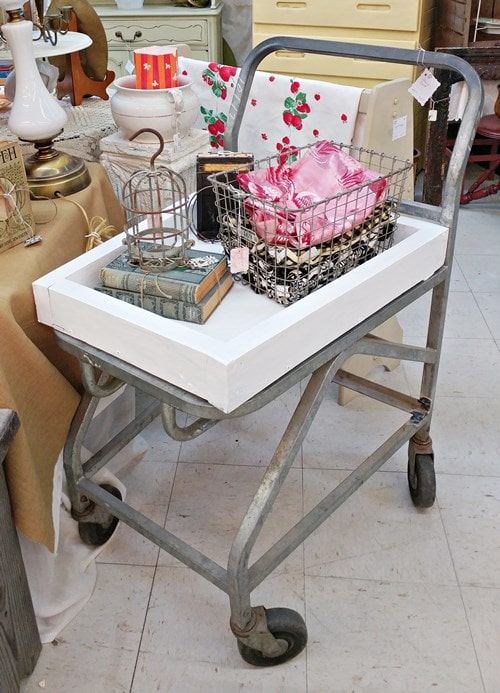 Flower Cart $59.00
---
Fabric $10.00
---
Not pictured:

Headboard Lamp $17.00
Refrigerator Dish and Lid $12.00
White Planter $8.00 (I don't know which white planter. I'll have to figure that out later.)
6 Cans of Paint total $97.00
4 Pieces of Jewelry total $25.00
4 Postcards total $4.50
3 Books (Old antique price and ID guides) total $10.00
2 Old Photos total $3.00
And the biggest goof I made this month — A set of 4 chairs $45.00. These chairs were newer, made in Malasia. I paid $10.00 for the set, took them straight to the booth, slapped $45.00 on them because, well, when I'm chair shopping that's the price I hope to see. Didn't even bother to get a picture. And I was hoping they would help sell a table we have no seating for at the moment. A couple of hours later, they sold. Sigh. Yay? Sad face? Head slap?
---
Etsy Sales:
Note that I usually charge shipping, only occasionally offering free shipping.
First Etsy sale of the year? The last of the 6″ Tupperware doilies. Ya know? I didn't make a killing off these things, but considering the cost, which, if I'm not mistaken, was free, it was a very good profit. It was just slow and a little at the time.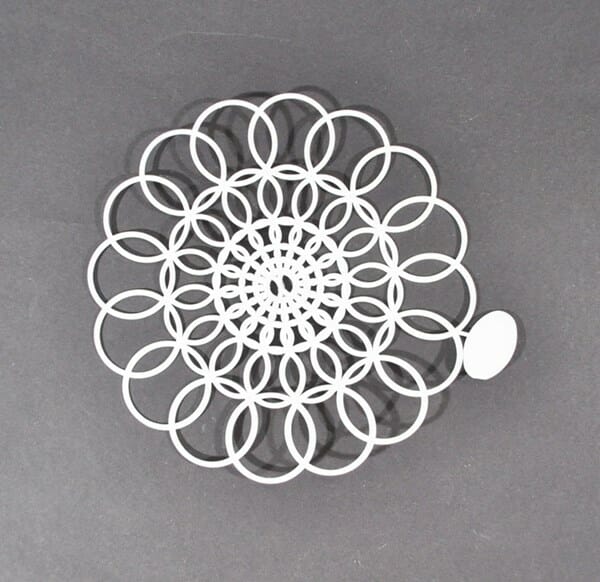 Tupperware Doily
$3.50
---
I had a lot of vintage flour sacks listed over the last few years. All had sold but this one and I let it sit in the expired listings for quite a while before renewing it again in January. It sold a few days later.
Windmill and Dutch People Flour Sack
$8.00
---
Meat Slicing Tool
$14.00
---
I did give free shipping on this vintage Vogue pattern. Shipping was $2.76, so take that off the $15.00 selling price.
Vogue 8878 Pattern
$15.00
---
Pair of 6″ and 4″ tall brass deer
$27.00
---
Web Site Sale

I'm always sooo appreciative of sales from the blog shop!


Vintage Mock Turtle Neck Sweater, still with its tags
$25.00
---
So that's it for my January sales. Hope you did better! I'm having to pay five dollars and 6 cents rent at the booth. Allllmost made it! If I'd charged just $10 more for those stinkin' chairs, I'd have got a $5.00 check! Pooh!
The following two tabs change content below.

Hi! I'm Wanda, the owner of Just Vintage and this is my blog where I talk about buying, selling, and decorating with all things vintage. I want to help you learn what to buy for resale and maybe give you inspiration in decorating, even if it's what NOT to do.